The Royal Ontario Museum (ROM) has established the Nick Mirkopoulos Curatorship of Ancient Greece and Rome to oversee the most comprehensive Greek and Roman collection in the country.
The new curatorship will play a vital role in deepening public engagement in this "collections area" through enhanced research, programming, exhibitions, and learning initiatives. A search to fill this inaugural position will commence this year.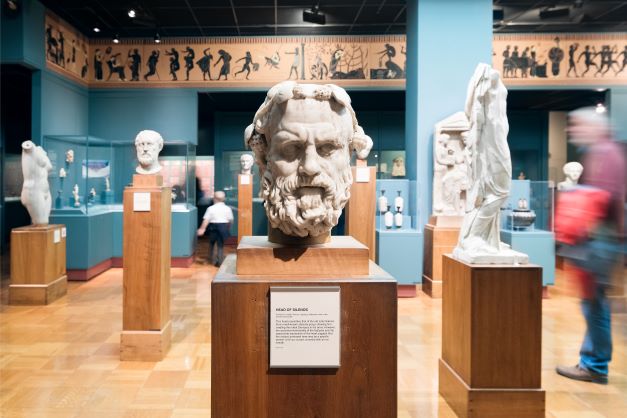 "The accomplishments of the ancient Greeks and Romans have touched almost every aspect of our lives from mathematics and sports to architecture and the arts," said Josh Basseches, ROM's Director/CEO. "The establishment of the Mirkopoulos Curatorship gives us an opportunity to bring a greater focus to this important collections area and celebrate the rich art and cultural legacy of ancient Greece and Rome in new and meaningful ways. We are grateful to the Lazaros (Larry) and Stilianos (Steve) Mirkopoulos families and the Louise Hawley Stone Charitable Trust for making this position possible with their generous gift."
Ancient Greece and Rome
ROM's collection of more than 7,000 objects from Greece represents one of the largest collections of its kind in Canada and among the top five in North America. The collection explores the story of the development of the Greek world from the Bronze Age Aegean to the Archaic, the Classical, and Hellenistic periods, a civilization that spanned from Italy to Afghanistan and from Egypt to the Balkans. ROM's Roman collection of 12,500 objects covers more than 1,000 years of history through Republican and Imperial Rome and encompasses Rome's vast geographic influence throughout that period.
The curatorship is named in honor of Nick Mirkopoulos, who left Greece for Toronto in 1968 and encouraged his brothers to join him in Canada. While supporting members of his family, he built several companies and created a successful cinematic studio business, employing thousands of people in Canada and the United States. This gift will honor his legacy in perpetuity.
"Our family is very proud to support ROM's important work in stewarding remarkable objects from ancient Greece and Rome, and interpreting the stories they tell," said D. Jim Mirkopoulos, who is a director of the board of ROM governors. "The Museum has always represented an important part of our family's cultural experience in Toronto, and we are delighted to pay homage to my late uncle and our extraordinary family patriarch, Nick Mirkopoulos, in this meaningful way."