The Politecnico di Milano has created the guidelines for modeling and sharing data for the project of conservation and restoration of the floor of the Church of the Holy Sepulchre in Jerusalem and has performed a detailed survey to document the state of conservation prior to the intervention.
The researchers created models of the floor and the surrounding architecture, starting from the laser scanner data. This laser scanner data was acquired by the project coordination group on-site, in the midst of the pandemic (led by architect Osama Hamdan).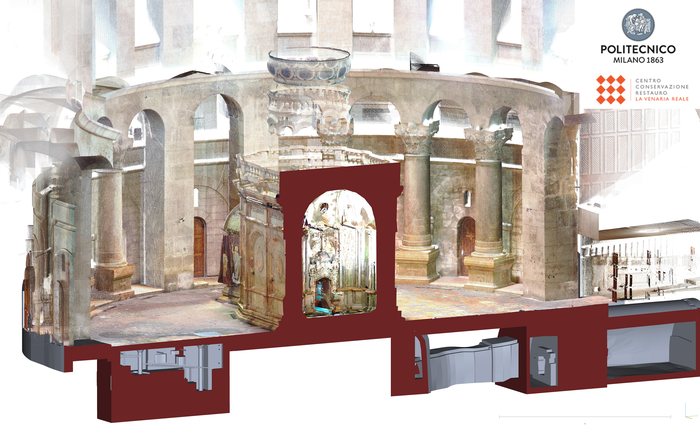 The high-resolution photogrammetric survey, carried out on-site by researchers from the Politecnico between September and October 2021, acquired more than 50,000 high-resolution images, using a system designed ad hoc.
"The system we designed consists of a special trolley on which we engineered an articulated lighting and acquisition system, with controlled intensity and coloring. This was integrated with a topographic survey for processing and verifying the final result, a digital image, an orthophoto, with very high resolution, metrically reliable and precise, of the entire floor of the Church of the Holy Sepulchre," said Prof. Luigi Fregonese from the Department of Architecture, Construction Engineering and Built Environment at the Politecnico di Milano.
The research group from the Politecnico, MantovaLAB – HESUTECH group from the Politecnico di Milano Mantua Campus (ABC Department), which is coordinated by professors Andrea Adami, Luigi Fregonese, Stefano della Torre, and the Vice-Rector of the Mantua Campus Federico Bucci, worked in continuous coordination with the internal staff at the church, in order to avoid interference with normal liturgical activities and visits by pilgrims and tourists who, despite the pandemic, still filled the church every day.
The project manager for the conservation and restoration of the floor, the start of which has recently been announced, on behalf of the Custody of the Holy Land, is the Centro di Conservazione e Restauro La Venaria Reale [CCR-VR] in Turin, with the support of a multidisciplinary team, while the direction of the archaeological excavation has been entrusted to La Sapienza University of Rome.